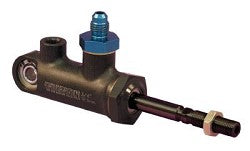 VHEdesigned to pivot at the rear, these master cylinders greatly reduce friction over conventional balance bars and fix-mounted master cylinders. The reduced friction within the pedal/master cylinders system provides repeatable braking and exceptional feedback to driver. VHE77-series master cylinders offer the latest in racing master cylinder technology in a very lightweight and compact design. The rear spherical bearing mount and one-piece piston/pushrod eliminate side thrust into the master cylinder bore, providing consistent and repeatable braking.
77-series master cylinders are designed specifically for use with tilton 900-series pedal assemblies and balance bars
features: 
 weighs only 0.3 lbs (3/4" bore) 3.4" body length handbuilt and blueprinted for cut-off port travel.
cutoff port distance may be altered for increased/decreased pedal free play using variable thickness shims (sold separately).
one-piece steel piston/pushrod spherical bearings (rear pivot) are positively retained with circlips
an3 (3/8"-24) outlet port, an6 (9/16"-18) crush washer seal inlet port
VHE  VHE
note: an4 inlet fitting pictured installed in master cylinder above must be purchased seperatly.
VHEavailable in select sizes: VHE.625 bore VHE.700 bore VHE.750 bore