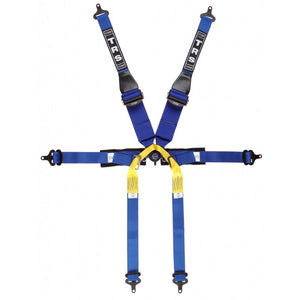 Top of the range 2 inch fhr only, fia approved 8853/16 single seater harness.
It has smooth running alloy adjusters with bolt-in fixing plates on the shoulders and bolt-in pinch plates on the lap and crotch straps.
The upper shoulder measurement from the fixing on the chassis to the adjuster on the driver's chest is 16 1/8". If you require a different length shoulder strap please use the attached bespoke specification sheet when ordering.
Trs' lightweight 140 gram quick release buckle is of composite construction and is attached to the right-hand lap strap on 6 point single seater harnesses. Innovative features such as thumb loops on the lower shoulder straps and velcro patches on the lap straps were all pioneered by trs and are standard on all of our competition single seater harnesses.
A variety of attachment points are available on request – please see the attached spec sheet detailing the options.
Standard colors are red, blue and black. Silver, yellow, green and orange are manufactured to order.